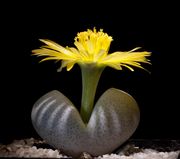 Anzucht und Kultur nicht transgener Pflanzen für die Forschung der biologischen Institute der Universität
Betreuung von Versuchsreihen in den Gewächshäusern und im Freiland
Anzucht und Kultur von Pflanzen für die Praktische Übungen und die Lehrveranstaltungen der Pflanzenphysiologie, Biochemie und Zellbiologie
Beschaffung und Bereitstellen von Pflanzenmaterial für die botanischen Bestimmungsübungen
Bereitstellung von Anzuchts- und Versuchsflächen
Pflege der Samenbank ( Saatgut für Forschung und Lehre aus dem internationalen Saatguttausch mit anderen wissenschaftlichen Einrichtungen, Brassicaceen-Sammlung)
Als Einrichtung für die Lehre betreibt die Gärtnerei eine Pflanzensammlung (Tropische und subtropische Pflanzen, Sukkulenten, Farne und Moose, Wasserpflanzen, Pflanzen der gemäßigten Breiten).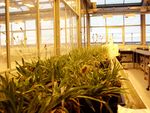 CCAC
The foundations of our algal culture collection were laid in 1974, when the first attempts to isolate single cells from a natural water sample led to the successful growth of clonal cultures of algae. The Culture Collection of Algae at the University of Cologne (CCAC) was formally established in spring 2001, when membership in the World Federation for Culture Collections (WFCC) was acquired. CCAC is listed in the World Data Centre for Microorganisms under the registration number 807. More than 2000 clonal cultures are currently maintained. Many of these strains are flagellates, indicating CCAC's present and future main subject of interest. Most of these cultures were established by members or guests of the "Melkonian group" and are held exclusively by CCAC. Some of our strains have also been deposited in other culture collections. From our collection of strains we offer to interested individuals and institutions a selection of axenic cultures of algae originating from freshwater or marine habitats.